VDO Autodiagnos VCI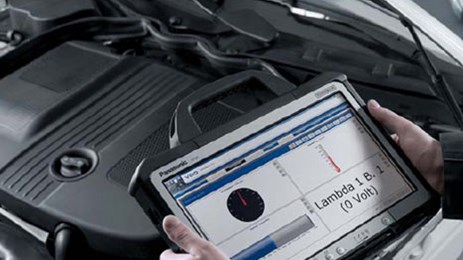 Computer-supported and always up-to-date multi-brand vehicle diagnostics
Reading and deleting fault memories, testing and addressing components, displaying measured values or consulting parts catalogs – Autodiagnos VCI can do all this and much more besides. The multi-functional diagnostic solution was developed to meet the wide-ranging challenges that face service workshops. In combination with the simple, intuitively operated Autodiagnos DSI computer software, the vehicle interface (VCI) is able to communicate with any compatible workshop PC via a modern, secure wireless connection.
Intro
Autodiagnos VCI incorporates both multiplexer and a CAN controller, permitting connection to a large number of different vehicle types.
Basic functions
automatic identification of control units
read and delete fault memory
read/record/reproduce current data and measured values
address components
EOBD modes
guided troubleshooting (HaynesPro VESA)
technical bulletins (HaynesPro SmartFix)
VDO Autodiagnos VCI consists of the "Autodiagnos DSI" diagnostic software and of the "Autodiagnos VCI" vehicle interface
Autodiagnos DSI
The Autodiagnos DSI diagnostic software permits easy access to all the data and functions. And, thanks to the optional ContiSys Update Plus software update service, you can be sure that all the data is kept at the most recent status. Autodiagnos DSI runs on many computers with Windows operating systems, and, in addition to the straightforward diagnostic functions, offers a range of useful interfaces.
All the data related to "Technical Data", "Technical Bulletins", "Recall Campaign Information" (HaynesPro VESA and SmartFix) or updates to the diagnostic software, is kept up-to-date through the computer's Internet connection. Updates for these functions are available for a full year after purchase, after which they can, optionally, be extended. After the diagnosis license has lapsed, only the diagnostic functions can continue to be used. The online databases are excluded from continued use.
Autodiagnos VCI
The vehicle interface (VCI) includes both a multiplexer and a CAN controller, therefore permitting connection to a large number of different vehicle types. The connection to the computer can either be established through the integrated wireless interface, or through a wired USB connection.
Note: The computer illustrated is not included
Updates
Always completely up-to-date with Update Plus
Update Plus is the optimum software update service that can be purchased with any Service Tool and VDO diagnostic device. This service ensures that your diagnostic device is always equipped with the most recent software.
The updates are made available regularly, and therefore guarantee the highest possible level of flexibility and reliability. And if the user does not want any more updates on expiration of the update period, then the basic operation of the diagnostic device can continue with the currently installed version.
Autodiagnos VCI: optional after the 1st year
Functions
always up-to-date through Internet updates
simple, intuitive operation
12-month period
extension possible on request
Update Plus VDO item number
Update Plus Autodiagnos VCI A2C59512093
Accessories
| | |
| --- | --- |
| VDO item number | Description |
| A2C59512078  | Autodiagnos VCI - Kit |
| A2C59512093  | Autodiagnos VCI - Update Plus |
| A2C59512090  | Autodiagnos VCI - EOBD Cable |
| A2C59512084  | Autodiagnos VCI - BMW OBD Cable |
| A2C59512975  | Autodiagnos VCI - Fiat/Alfa/Lancia 3pin |
| A2C59512083  | Autodiagnos VCI - Mercedes OBD Cable |
| A2C59512082  | Autodiagnos VCI - Mercedes Sprinter Cable |
| A2C59512974  | Autodiagnos VCI - PSA Cable 2pin <´98 |
| A2C59512080  | Autodiagnos VCI - PSA OBD Cable |
| A2C59512079  | Autodiagnos VCI - VAG OBD Cable |
| A2C59514540  | Autodiagnos VCI - Honda 3/5 PIN cable |
| A2C59512089  | Autodiagnos VCI - USB Cable |
| A2C59512092  | Autodiagnos VCI - Carry Case |
Contact